Overview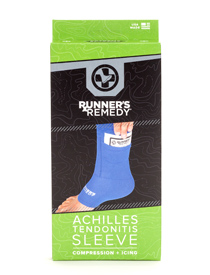 The Achilles tendon is the tendon that attaches the gastrocnemius (calf muscles) to the calcaneus bone (back of the heel). It is important in activities that involve plantar flexion of the ankle (pushing down with the foot or doing heel raises). The Achilles tendon can get inflamed (tendinitis) or it can degenerate/wear out (tendinopathy) with repetitive activities. Aggravating activities include running and/or repetitive jumping.
Causes
Poorly conditioned athletes are at the highest risk for developing Achilles tendonitis, also sometimes called Achilles tendinitis. Participating in activities that involve sudden stops and starts and repetitive jumping (e.g., basketball, tennis, dancing) increases the risk for the condition. It often develops following sudden changes in activity level, training on poor surfaces, or wearing inappropriate footwear. Achilles tendonitis may be caused by a single incident of overstressing the tendon, or it may result from a series of stresses that produce small tears over time (overuse). Patients who develop arthritis in the heel have an increased risk for developing Achilles tendonitis. This occurs more often in people who middle aged and older. The condition also may develop in people who exercise infrequently and in those who are just beginning an exercise program, because inactive muscles and tendons have little flexibility because of inactivity. It is important for people who are just starting to exercise to stretch properly, start slowly, and increase gradually. In some cases, a congenital (i.e., present at birth) condition causes Achilles tendonitis. Typically, this is due to abnormal rotation of the foot and leg (pronation), which causes the arch of the foot to flatten and the leg to twist more than normal.
Symptoms
Common symptoms of Achilles tendinitis include weakness in the leg, slight pain above the heel in the lower leg after activity, feeling of stiffness in the leg that usually appears in the morning and lessens throughout the day, bad pain the day after exercising, pain as you climb stairs or go uphill, swelling in the area of the Achilles tendon, creaking or cracking noise when you press on the Achilles tendon.
Diagnosis
When diagnosing Achilles tendinitis, a doctor will ask the patient a few questions about their symptoms and then perform a physical examination. To perform a physical exam on the Achilles tendon, the doctor will lightly touch around the back of the ankle and tendon to locate the source of the pain or inflammation. They will also test the foot and ankle to see if their range of motion and flexibility has been impaired. The doctor might also order an imaging test to be done on the tendon. This will aid in the elimination of other possible causes of pain and swelling, and may help the doctor assess the level of damage (if any) that has been done to the tendon. Types of imaging tests that could be used for diagnosing Achilles tendinitis are MRI (Magnetic resonance imaging), X-ray, Ultrasound.
Nonsurgical Treatment
Proper footwear with a strong and secure counter (the heel circumference) may help to encourage heeling of the tendon. A tendinitis will occasionally resolve on it?s own, with rest, ice, and gentle stretching. If symptoms persist for more than 2 weeks, consult your physician. Your physician may suggest physiotherapy and custom orthotics. Physiotherapy can suggest appropriate exercises and modalities to aid in the healing process. Custom orthotics can be very successful in treating the problem, as the original cause may be due to an improper alignment of the foot and heel. Re-aligning the foot to a neutral position may provide an optimal, biomechanically sound environment for healing to occur.
Surgical Treatment
The type of surgery you will have depends on the type of injury you are faced with. The longer you have waited to have surgery will also be a factor that determines what type of surgery is needed. With acute (recent) tearing the separation in your Achilles tendon is likely to be very minimal. If you have an acute tear you may qualify for less invasive surgery (such as a mini-open procedure). Surgeons will always choose a shorter, less invasive procedure if it is possible to do so. Most surgeons know that a less complicated procedure will have less trauma to the tendon and a much quicker rate of recovery after the surgery.
Prevention
Warm up slowly by running at least one minute per mile slower than your usual pace for the first mile. Running backwards during your first mile is also a very effective way to warm up the Achilles, because doing so produces a gentle eccentric load that acts to strengthen the tendon. Runners should also avoid making sudden changes in mileage, and they should be particularly careful when wearing racing flats, as these shoes produce very rapid rates of pronation that increase the risk of Achilles tendon injury. If you have a tendency to be stiff, spend extra time stretching. If you?re overly flexible, perform eccentric load exercises preventively. Lastly, it is always important to control biomechanical alignment issues, either with proper running shoes and if necessary, stock or custom orthotics.